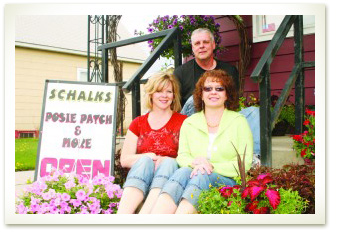 Rick and Diane Schalk shared a dream of opening their own business one day.
The couple looked at restaurants and bars when those businesses went up for sale, while Rick continued to work as a draftsman or design engineer and Diane managed the kids and the house. They said they just hadn't found the right fit – until they saw the Posie Patch listed in the real estate pages of the local paper.
They made an offer on the business in early 2010, sealed the deal, and opened for business on March 1. Rick is in charge of managing the books and deliveries, and the Schalks have three part time employees, including Diane's sister Susie Hanley, currently working for them.
Schalk's Posie Patch offers both fresh and silk flower arrangements for every holiday and occasion, along with fruit baskets and candy bouquets. The shop also carries both live and artificial plants and contracts with businesses to maintain these items on site.
In addition to being a flower shop, Schalk's Posie Patch and More offers a variety of gift items including jewelry, copper watches, home decor, candles, figurines, knick-knacks and stuffed animals. Items can be arranged into gift baskets, or delivered individually to customers for any occasion. Delivery available in Butte only.
In the interest of providing a fresher product, the couple said they do business with as many local or regional suppliers as they can, getting roses from Helena and Spokane and plants from Logan, Utah. Wedding consultations can be arranged by appointment.
Throughout the coming year, she hopes to expand the shop's line of wedding accents and accessories and bring in some decorative rental items for special occasions.
Contact us for more information about the following items we offer:
Weddings
Holiday Centerpieces
Jewelry
Candles
Purses
Stuffed Animals
Gifts
Candy Baskets
Silk Flowers
Coffee & Tea Baskets
Fruit Baskets
Balloon Bouquets
Snack Baskets
Salami & Cheese Baskets
Funerals
Cemetery floral arrangements and delivery